A student just won 4 million dollars scholarship to study in Harvard, MIT, Stanford and 24 other leading universities. Why him? He designed a device to help disadvantaged communities It is not just about passing SAT and IELTS again but having a rich profile Join Erudite Fourth Industrial Revolution Programme to build your CV
Erudite Remedial O' Level Class remedied maths phobia within 3 months!
If your WASSCE result is not strong enough or you are weak in some subjects, our Remedial O' Level Class is for you.
Gain admission to 200 level directly in Nigeria or abroad.
Join Erudite Cambridge A' Level Class
We deliver the best results within the shortest possible time.
Talk to us!
SAT or ACT?
IELTS or TOEFL?
GRE or GMAT?
OET or PTE?
German, French or Spanish?
Arabic or Mandarin?
Erudite Millennium Ltd is a foremost language service and training company in Nigeria. Our tutors have been rated the best.
We prepared a young school leaver for IELTS in 8 days and she got 7.5 out of 9.  We prepared a graduate within 4 days and he scored 8 out of 9.
We have trained teachers in over 200 schools across Nigeria. University administrators; federal and state government officials; journalists and other public functionaries have benefited from our range of value-packed products.
Erudite Millennium Ltd is surely the place to learn.
We welcome prospective students, parents and guardians.
We are delighted that you have found our website!
Our team looks forward to working with you.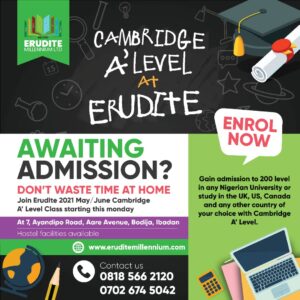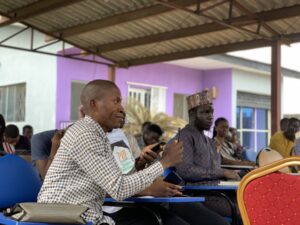 Let the numbers speak for us
What our clients are saying
At some point, it seemed like achieving B2 in 4 months was impossible, but Erudite Millennium Limited has done wonders and we are proud to be students at Erudite Millennium Limited